Below are a list of frequently asked questions from our customers:
How do I know if I have a burst or leaking water pipe?
If you can hear a hissing sound in your water pipes or if your water meter is moving when you have all taps shut off, chances are you have a burst water pipe somewhere in your service and are in need of help. If so call Aquasonic Leak Detection on 0418 913 671.
I recently received a higher than normal water bill? What should I do?
Unusual high water accounts can more often than not indicate that you have an undetected burst pipe, in some cases several dripping taps can be to blame, therefore we always recommend you check your taps first. If they are all OK, call Aquasonic on 0418 913 671 for our professional assistance.
Can I fix a burst pipe myself?
Specialist equipment & knowhow are required in detecting & repairing water leaks. In addition unlicensed repairs contravene Australian Standard By-Laws. It is not uncommon for Insurance companies to decline potential claims if unlicensed work has been carried out. Our advice? Use Aquasonic Leak Detection – we are fully Insured Licensed Plumbers.
Why does my Hot water Unit run constantly?
You may have an undetected water leak in your hot water supply. Turn off the inlet water tap to the heater. If this stops the problem you have a leak in your hot water service & are in need of Aquasonic's help.
Will there be a mess?
Our specialists are always mindful of keeping disturbance to a minimum. We look upon each job as if it were in our own home, giving cleanliness, quality and minimum fuss the highest priority.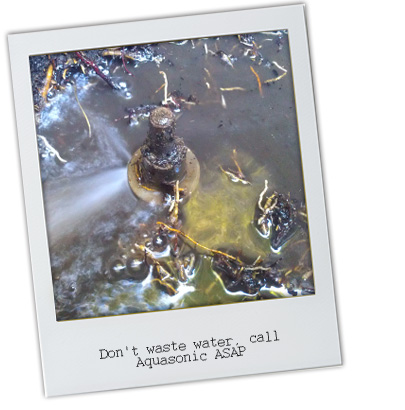 Can I claim off my household Insurance?
In some cases your Insurer may cover you for all or part of a claim. It is always best to contact their claims department to clarify.
I have had several burst pipes, what can I do?
We always recommend establishing a history before making any decisions regarding the upgrade of your water service. If you have had 2 or more burst pipes it is entirely plausible that bursts will continue into the future, in which case we would recommend considering a complete repipe of your water service. A site evaluation may also be required so the best possible design can be accomplished.